We've all used a CAPTCHA but few understand it or know what they do. CAPTACHA is the acronym for "Completely Automated Public Turing test to tell Computers and Humans Apart."
In a nut shell CAPTCHAs are those weird looking characters that we're forced to type in when trying to get to the next step of a form. It's a clever way of ensuring that the person filling out the form is an actual human and not a computer or "bot". Google as do many other companies, rely on CAPTCHAs to add an added measure of security.
A not so common problem can occur when trying to access your Google Apps email account with Outlook or similar email client using POP or IMAP. When a user makes too many unsuccessful attempts to access an email account using POP or IMAP, Google may consider the account as being attacked or about to be compromised.
When this happens, Google Apps users may not be able to send mail using their email client. To fix the problem, Google suggests "Unlocking the CAPTCHA."
http://www.google.com/a/your_domain.com/UnlockCaptcha
Obviously you need to replace "your_domain.com" with your actual domain name.
The page you see should look like this: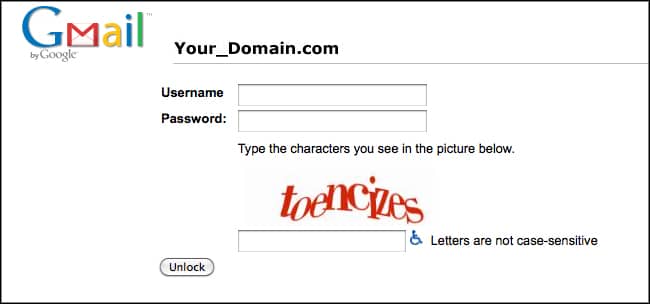 To unlock the CAPTCHA you'll need to type the username and password of the email account giving you problems, then ironically enough, type in the CAPTCHA shown, then the Unlock button.
It usually takes Google several minutes for the email account to start working as normal. It's important to note that just because you've unlocked the CAPTCHA once for a particular email account, that's not to say that the same problem may not occur again.
To avoid issues which may cause Google to be concerned about an account, try not to connect using Outlook or other email client from too many IP addresses within a short period of time. Jumping from one Hotspot to another or cruising the neighborhood to find an open wireless connection to check your email, are just some of the reasons which can cause a problem. Increasing the "timeout" setting within your Outlook advanced settings for a particular email account may help as well.
The best solution however is to stop using Outlook completely and use your web browser instead. We suggest reading the article entitled:
Remember to bookmark this page or Google's Unlock CAPTCHA page in the event you need to ever Unlock your Google CAPTCHA.